Yes, our 100 hour Easter Radiothon 2017 began at 6pm on Thursday 13th April and we continued in four hour shifts until 10pm on Easter Monday, 17th April.
Loads of local businesses sponsored the event to ensure that each 1 hour slot of the 100 hour long event was sponsored.  Here are some pictures from this brilliant fund raising weekend, which will ensure that your favourite hospital radio station will remain on air and can afford to continually upgrade and improve.
It was lovely to see our new Studio 1 in constant use by so many members, NHS staff, past members & guests.  The Radiothon was a massive success in so many ways.  We had great fun in the studios, we had great fun on the wards, we raised some money for the charity and the free publicity was immense, what could be better?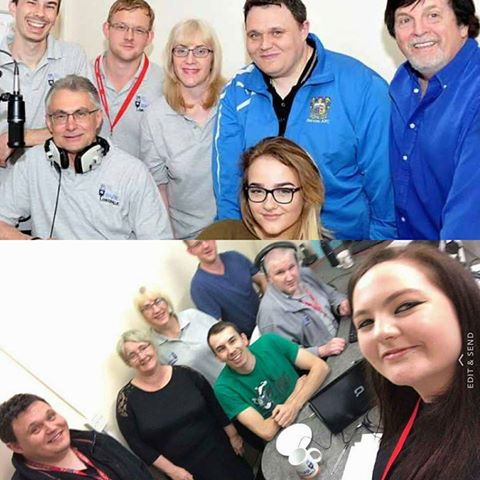 We thank the following local businesses for sponsoring the shows on our 5th and final day of Radiothon 2017 – Please consider them first whenever shopping:
Keith Nutter Limited; Cut Price – Ulverston; Chips Computers; Boutique – Ulverston; J F Hornby & Co; Phil Collier Associates; Kurly's; N&S Rhodes Butchers; Working Class Heroes; Furness Watch & Jewellery; Crafty Hobbies, Barrow in Furness; Mr Simms Olde Sweet Shoppe – Ulverston; The Gallery; Cumbria Wargaming Supplies; Food on Dalton Road; Barrow AFC; Bluebirds Trust; Donna Jefferson(Funtymz Fancy Dress); Living World; Lakeland Dry Cleaners; & KICK Off 4 CANCER.